Fon is one of EDF scholar students who received scholarships to pursue secondary school education since 2010. She currently lives with her grandmother and a 10 year sold brother in 4thgrade. Fon's parents divorced when Fon was still young, moved out to remarry and rebuild their new families elsewhere. They left Fon and her brother behind with a 70 year old grandmother, who also suffers from sickness due to high blood pressure.

Fon recounted her story to us: "I don't know why dad and mom had to divorce. I only know that now both of them have new families and their own children. At first, my brother and I were really sad. I frequently cried with my brother and wondered why my parents did not come to take us to live with them. However, my grandmother often reassured me that even though my parents were not with us, my grandmother would try be both the father and mother figures for my brother and I. I love my grandmother very much."

The one thing that saddens Fon the most is that after the new marriages, her mother never contacted Fon again. As for Fon's father, he only comes back once in a long while and provides very little financial help to Fon's grandmother.

Fon's grandmother is now 70 years old and is sick from high blood pressure. Her health conditions and medical needs do not allow her to work as much. As a result, Fon's family has very little to no income. On weekends, Fon and her brother must then go out to work in various capacities such as chili picking, potato farming, or wherever there is a need. They earn only 150 Baht a day to support their family's expenses. Moreover, they still need to go fish in nearby ponds as a source for food.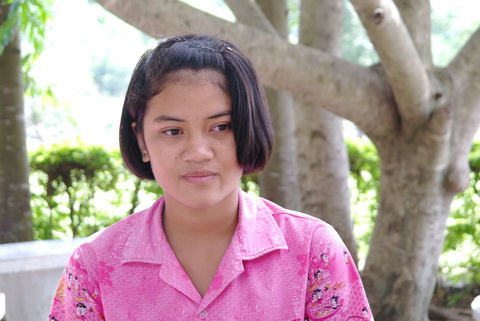 "Fon" or Preedaporn Wongsiri, a 14thyear old scholar and an 8thgrade student at the Sarngtoneng Lamtakong 4 Estate School in Nakornratchasima province.


After receiving EDF scholarship, Fon mentioned to us: "I would like to thank all the generous supporters who opened up the opportunities for me to pursue further education. If I did not receive any scholarships, I don't know how my life would have turned out. I used my scholarship money not only for lunches and for school materials but also shared part of it to my brother. I don't know how I can repay your kindness. I promise that I will study hard, help myself as much as I can and will not become a burden to a society."

When asked what her definition of love was, Fon replied, "My love consists of my brother and grandmother. If possible, I also wish that my parents would still love each other and would come back to live together with my brother and I forever."

Fon has a determination to stay in school for as long as she can, so that she can take care of her grandmother and her brother. After completing 9thgrade, Fon plans to continue her study in non-formal education system so that she would be able to study and work at the same time. This plan, Fon hopes, would allow her to save some money to pursue a bachelor degree and to support her brother to stay in school for as long as he could.