Due to the violences in the three southernmost provinces of Thailand (Yala, Pattani and Narathiwat and some districts of Songkhla orovince) that have occurred more than 10,000 times since 2004, causing deaths and damages to property and destroying spirit of the local people and the various government agencies. It also affects the education of children and youth in the areas. Schools were burned, teachers were shot, and a large number of children becoming orphans from the loss of their parents or guardians who are the breadwinner of the families due to violence.

According to a Southern Border Provinces Administrative Center (SBPAC)'s report of violences in the 3 southernmost provinces since 2004 to the present, injuries from violence accumulates to 9,524 people (Over 6,000 injuries were civilians). Also, the total number of deaths is 5,528 people (over 4,200 were civilians).

EDF has initiated. "Under the same sky" Scholarship program since 2006 to provide scholarships to orphaned students in the affected areas where they have lost their parents or guardians from the unrest to help these orphans with their physical and emotional healing, and encourage children to attend school. Since 2006 until now, there are orphaned students in Yala, Pattani and Narathiwat provinces that have received in all level of education to more than 4,000 students.

In student selection process for the " Under the same sky" Scholarship program, EDF relies on the women volunteering network, schools and teachers in the affected areas to make the survey to recruit eligible affected students who lost their parents due to the unrest in the areas and also organize the scholarship handover ceremony including the training for parents and students in the areas in order to clarify the purpose of the scholarships.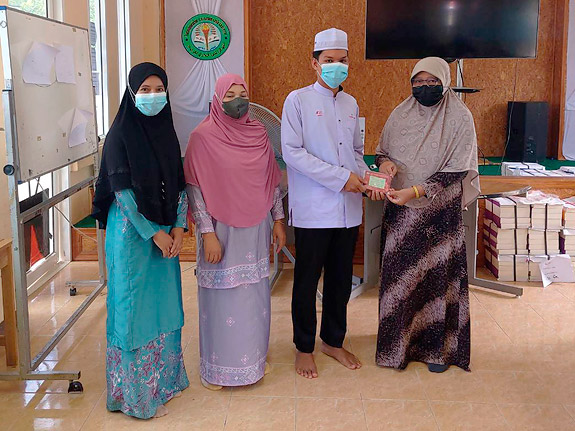 Some of
orphaned students in the 3 Southernmost provinces of Thailand
who recieved EDF's Under the Same Sky Scholarship in School Year 2021

Types of support:

A 1-year scholarship valued 5,000 baht/student

Qualified student candidates are those:
who are currently studying and would like to continue their schooling in the three violence-affected southernmost provinces.

who have lost the family's primary breadwinner as a result of the violence in the areas.