My house is located in front of the school. It is a one-story house made of wood mixed with concrete. I live with my grandparents and great-grandmother who is sick and unable to walk. My father and mother work as workers in Chanthaburi Province. Once in a while, they will come back home.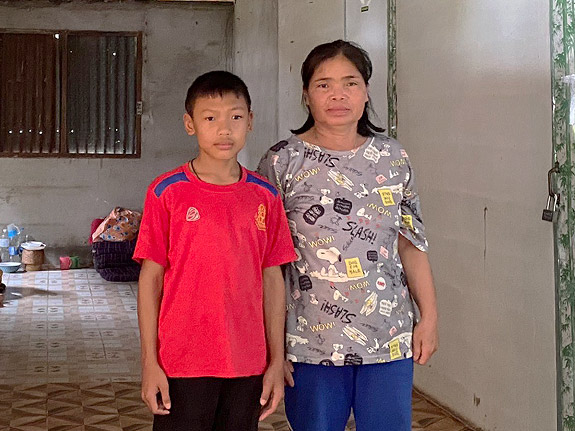 Bank and his grandmother, who do odd jobs for a living,
is the breadwinner of the family.
Usually from Monday to Friday, my grandfather and grandmother will go out to work as a truck driver to deliver goods. Since both of them are old and their eyesight are not good, they are rarely hired. During the harvest season of cassava, they will work digging up cassava earning about 250 baht, but the job is not available every day. My father and mother rarely send us money because they also live a hand to mouth existence. Each month, the money from the government elderly support is 700 baht for each for my grandparents and a great grandmother, three people for a total of 2,100 baht per month.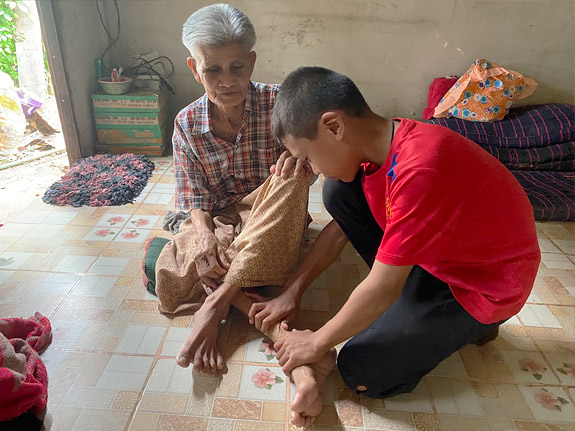 During lunch breaks, Bank asks his the teachers' permission to go home
to prepare food and medicine for his great-grandmother. He gives his
great-grandmother a leg massage every evening after school.
If grandparents go out to work during Monday to Friday, I will need to ask teachers' permission to go back home at noon to prepare rice and medicine for my great-grandmother. In the evening after school, I massage my grandmother's legs to reduce pain. At home, I help grandparents with small chores such as sweeping the house, mopping the house and washing the dishes. During weekends, I work part time in a motorcycle repair shop and earn a small wage of 50 baht per day. It helps in my schooling.
When I am at school, I enjoy studying Physical Education. I like all kinds of sports. I can play almost all kinds of sports including football, volleyball, table tennis and petanque.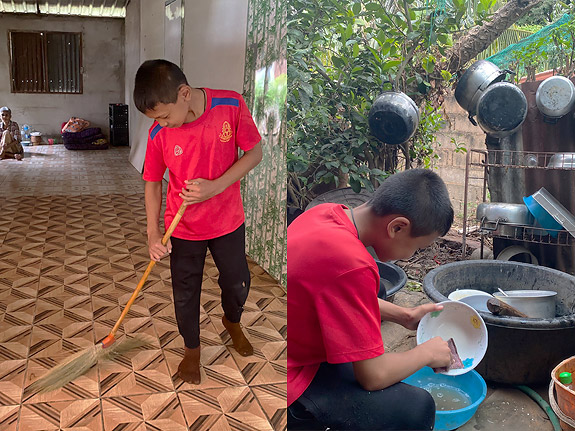 Bank helps with various household chores to help his grandparents,
as well as takes good care of his great-grandmother.
I tried to study extra hard because I know I am not that smart. When I grow up, I want to own a motorcycle repair shop because I like to fix things that are broken.
When I grow up, I also want to take care of my grandfather and grandmother. I will not cause them troubles.
I would like to get a scholarship to lighten up even a bit my grandparents' expenses on my education. I don't want them to work hard. They are already very old.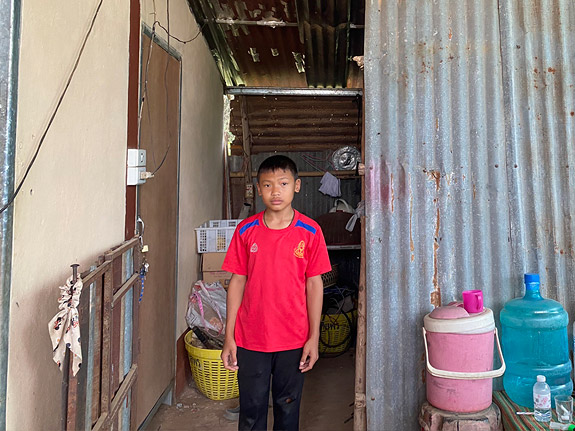 If he receives a scholarship to complete Grade 9, Bank intends to further
his study in Vocational Automotive Mechanics so he would be able to work
in factory and save money to open his own motorcycle repair shop.
If I get a scholarship this time, I will use for my schooling, buy food for my grandfather and save some for my great-grandmother's medications and doctor.
If I get this scholarship, I am confident I can complete my education at least from grade 7-9. I want to further my study in vocational education. I want to study automotive mechanics. After graduation, I can work in a factory to earn and save money to open my own motorcycle repair shop to reach my goals and dreams.
I would like to thank the donors in advance who can help me and others like me. If I get this scholarship, I promise to use every baht for my education. Thank you.