Nikorn Suwaluk had received EDF scholarship to further his lower and upper secondary education
(Grade1-12) from 2004-2009 at Ban Nong Pak Waen School and Satree Suksa School, Roi-et Province. He reminds us his feeling when he was, at the first time, granted with EDF 10 years ago that;
"I was so delighted when I knew that I was granted with EDF scholarship. I really appreciated to know that a there was kind people who gave educational opportunity to poor children. Although the scholarship fund was not much, but it was so precious for a poor child like me. I spent the scholarship for my education and it was really helpful to lessen the financial burden of my family"

But there was also another impression that Korn would never forget. That was when his scholarship sponsor visited his house in Roi-et province while he studied in lower secondary school and met face to face with him and his family. Korn told us that impressive moment that "I had never thought of meeting in pewrson with my sponsor before. He told me when he visited my family that he would provide me further scholarship support for my upper secondary education(Grade 10-12). I felt deeply appreciated for the kindness he extended to a poor child who always dreamt for studying higher. I told him that I will study hard until I could graduate bachelor's degree and find a good job to support my parents and family."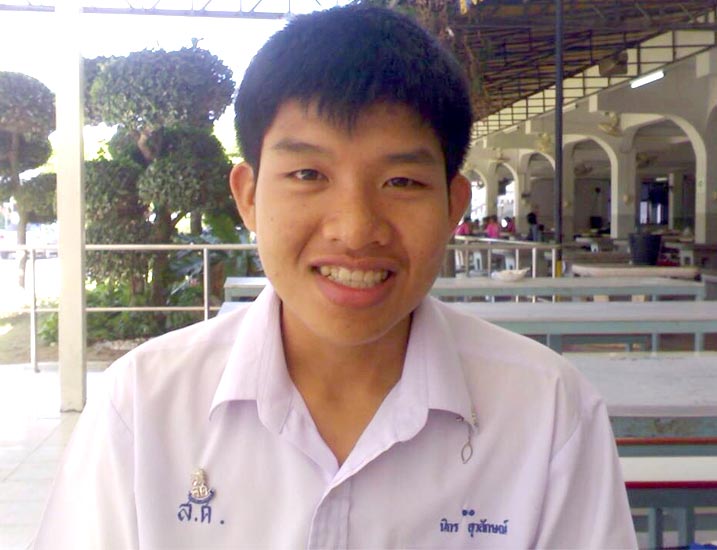 Nikorn Suwaluk while he was studying in upper secondary education
at Satree Suksa School, Roi-et province

After completed grade 9. Korn was granted, by his EDF sponsor, another 3-year scholarship to further his upper secondary education (Grade 10-12) and he could further his study until he graduated Bachelor of Science from the Faculty of Science and Technology, Rajaphat Suan Dusit University, Bangkok. At present, he works as a medical assistant at a medical center in Udonthani province and be able to support his parents and family as promised to his sponsor. From the hardship Korn had faced when he was a child makes he believes that only hardworking and patience could bring success to one's life.

Korn also left his message to his kind sponsor and to other junior EDF scholarship recipients that " I want my sponsor to know that I always feel like he is my second father. I would like to express my heartfelt thank to him for giving a valued educational opportunity to a less fortunate child like me and fulfill my dream of studying in higher education. If I had a chance, I would pay back for his kindness and I do wish him with happiness and good health." "For other junior EDF scholarship recipients, I want all of you to concentrate on your studies because only education that will bring you good jobs, be self reliance and able to support your family "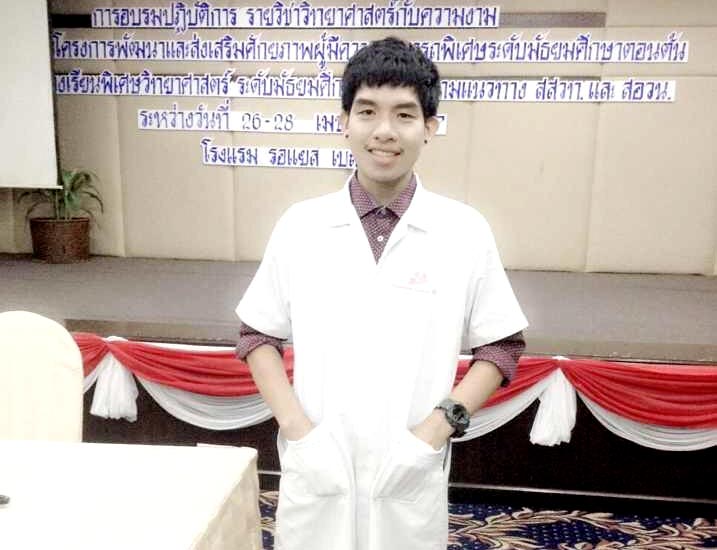 Nikorn Suwaluk after graduated Bachelor of Science from the Faculty of Science
and Technology, Rajaphat Suan Dusit University, Bangkok.

For children in rural Thailand poverty means more than just a lack of money. It means a lack of opportunities and hope for the future. Many are forced to leave school in order to find work to support their families. Yet without education their employment options are limited and prospects are low. It's a viscous circle that affects the children, their families and the community. For most, breaking the cycle is impossible without help.