"I never regretted being born poor and never compared myself to rich people. I think people cannot choose how they are born, but they can choose the path they would take."
My name is Premjit Bamram, a former EDF student scholar from Grade 7 to Grade 12 or from 1992-1997. I was born in Kut Chum District, Yasothon Province.
Currently, I work as operating room nurse at Ai Rong Hospital, Narathiwat Province. "I think my success today is partly due to the fact that I received scholarship for six years from sponsors through EDF foundation and partly from my own determination.

"I believe that people's opportunities don't come often. However, if an opportunity comes to us, we should take it and make use of it to the best of our abilities. If I were not granted with EDF scholarship, I may not be where I am today."

My parents are farmers and had no additional occupation. The agricultural produce they sell are just enough to cover the cost of fertilizers. To be able to earn more, they have to rent other people's land to have more produce and income. It is very tiring for them.

As the eldest daughter, I was the main helping hand to help my parents since I was in Grade 2. My mother taught me how to do farming quickly and efficiently so someone would hire me.

I got hired for the first time when I was in Grade 5 and also received my own 50 baht wage for the first time. I was very happy. During the harvest season, I helped my mother harvest rice. In the rainy season, my mother grows vegetables, such as lentils, melons, peas and lettuce. I helped water the crops and bring to the market to sell. Unfortunately, my mother could not plant vegetables during the summer season due to insufficient water.

My father rode a bicycle every day for about three kilometers from the house to another village to join his friends catch fish, which they would sell if they got more for our own consumption. The fish ended up as our food.

I struggled with poverty since childhood, which served as a foundation of my determination to change things for the better. I would have to study hard to get out hardship and provide our family a more comfortable life one day.

I had always studied hard as a student and so I always had good grades, especially in mathematics. One day, almost at the end of my Grade 6 year, the homeroom teacher asked if anyone would like to continue to Grade 7. I talked with my parents about that, but my mother wanted me to work in a factory with my relatives in Bangkok to earn money to help the family. However, I really wanted to continue to Grade 7. My homeroom teacher told her husband, who is a teacher at a secondary school, about my case and he sought a scholarship for me and talked to my parents to explain the situation.

I continued my studies in secondary level (Grade 7) at Kammad Khantitham Wittayakom School, Kudchum District, Yasothon Province and had received a scholarship from EDF since then. I was very happy and I continued to study hard. Each semester, I always had good grades was always among the top students. In fact I represented my school in Math competition every year.

During my junior high school year, I bought school shoes, bags, math and science books required by the school but I also bough extra handbooks to gain more knowledge. As for the school uniform, many former seniors who had already graduated pass on their old uniforms to new juniors like me and many still look new. I told myself, "Old is okay, just make them clean and tidy".

I met my EDF sponsor for the first time when I was in Grade 7. That was when an event was held at the school for sponsors to meet with their scholars. My sponsor was kind and friendly. I respected and I love him like my father. I have written letters to talk with him all the time because I think he should get to know the results of my studies every semester.

After completing Grade 9, I took an exam for Grade 10 at the provincial secondary school. My mom did not want me to go there because I would have to pay for dormitory accommodation, so studied Grade 10 at my old school.

I received EDF scholarship until Grade 12. I spent the money to buy shoes, school bag and books for Mathematics, Chemistry, Biology and Physics. I spent the rest for travel expenses related to education.

After graduating Grade 12, I took examinations at several educational institutions for my bachelor's degree. Sadly, I did not pass any. I felt very sorry for myself but I did not want to disappoint my sponsors who had supported me over the years, so I took a Diploma degree in Accounting at Mukdahan College of Technology.

During the first semester, I stayed at the college dormitory and relied on government student loans for tuition fees. There's only 360 baht per month left, which was not enough to pay for other expenses. A close friend of mine asked me to work as a part-time dishwasher at a restaurant, which I did for 6 months while studying college. After that, I got work in one 7-11 convenient store. Being a working student was hard but it also had its upside as I was able to send some money to my mother and sisters.

"I never regretted being born poor and never compared myself to someone who's rich. I was happy and proud of myself, even back then, proud for helping out ease the burden on my family and being able to continue my education to a higher level despite all of the hindrances I had to face."

In 2003, I got married and moved with my husband to Narathiwat Province. I have one daughter, who I intend to raise as a good person and a good citizen. I will do my best to support her and make her school life much smoother than mine.

In 2007, the government held an examination to select people for admission to the nursing program to solve the nursing personnel shortage in the southern border provinces due to the insurgency problem. This time around, I passed both the written and verbal tests. I studied nursing at Boromarajonani College of Nursing, Bangkok of Mahidol University. I was also granted with the "Prince Dipangkorn Rasmijoti Scholarship" for three years, in the sum of 20,000 baht per year. I graduated Bachelor's degree with a second-class honor.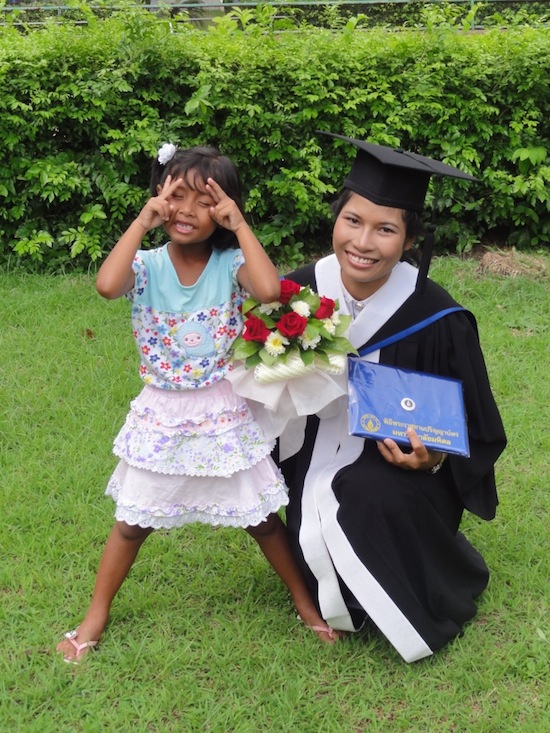 Premjit with her daughter on the day of her graduation day
for Bachelor's degree in nursing.
Currently, I work as a professional operating room nurse at the antenatal care unit and delivery room, Joh Ai Rong Hospital, Narathiwat Province.

Being a Northeastern person, I've had problems communicating with some patients or some people who did not speak Thai but spoke in Yawi dialect. I have been learning Yawi with my local colleagues.

"I think I am successful today partly due to the scholarships from sponsors through EDF from Grade 7 to Grade 12 and my own determination. I believe that opportunities do not come often, thus one should take it if it presents itself and make the best use of it."

If I did not receive EDF scholarships on that day, I would not be what I am today. I would like to thank all my sponsors, homeroom teacher and EDF staff who supported and believed in me.

In the future, I would like to pursue a master's degree to further help the people in the southern border provinces of Thailand.

As for my goals, I want to have a warm and full family. I want my child to receive the highest possible education. In addition, I will offer support to other needy students, just like I what got myself when I was a student.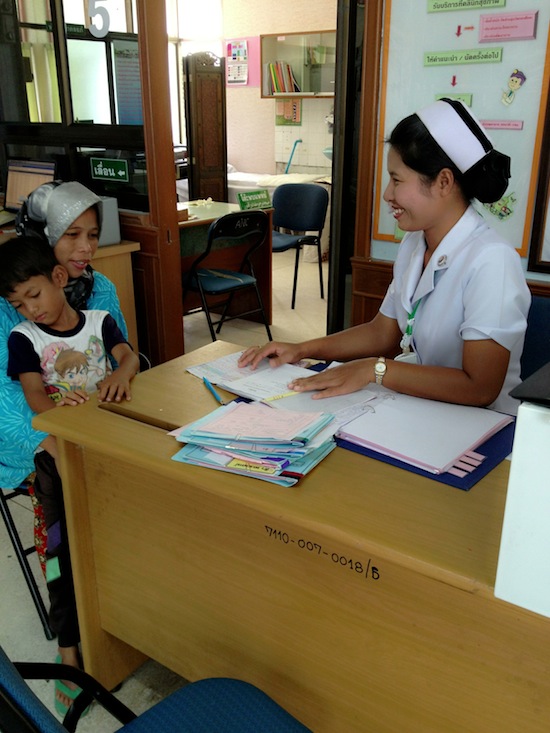 Premjit and her current role as a professional operating nurse
at Joh Ai Rong Hospital, Narathiwat Province.
I contacted EDF again when I went to study nursing in Bangkok. I want to thank and update my sponsor of my success in life, in which their support played a significant role. If I get to meet my sponsor again, I would tell him that I will not forget his kindness and EDF.

Looking back to my junior high school days, I can really say that scholarships were very important and necessary for rural children. The amount may not have not been huge for some people, but for needy children from the rural areas the scholarship is considered a life changer

I believe student scholars would use the funds in the most useful and productive way related to education. The current education system in Thailand had changed since my student days, the government is now giving more support to education compared to before. Nevertheless, rural children still need scholarship support to augment the one they receive from the government.

I think people with better education can play important roles in the society. They are also better positioned to improve their lives and their families' and give back the help they receive as student scholars themselves. They will not forget EDF and their educational sponsors.