I am Pattaraphon Mardkhao, a former EDF Foundation scholar from 1994-1996 while in junior high school at Ban Na So School, Yasothon province.

I came from a very poor family. I probably would have not completed my junior high school without scholarship support. Money was very tight then, in fact my father did not want me to continue school because there was not enough money to pay for tuition fees. My elder brother could not continue his education.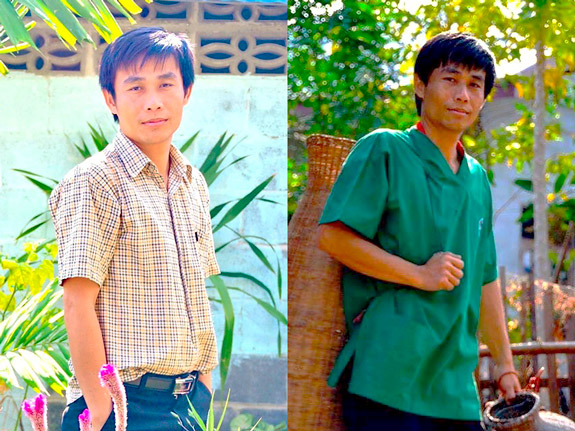 Pattaeraphon, a former EDF scholarship student, 1994-1996.
He is currently an Animal Veterinary Officer
at Yasothon Provincial Livestock Office.
When I received a scholarship from EDF, it was through a joint bank account with the names of my teacher and me. It required both of us to sign withdrawal slips to get the money. I withdrew only during the beginning of the new semester, 500 baht per semester to buy school uniforms, notebooks, books, stationery, and shoes. Sometimes, I did not withdraw the money because I was offered free school uniforms and books, due to my good academic performance. When I graduated from school, my cumulative GPA was 3.85.



After finishing junior high school, I moved to study at Kudchum Wittayakhom School, which is the district school. At that time, my brother asked me to take care of a sick monk at a temple in Yasothon province so I needed to transfer and continue school Yasothon Pittayakom School (Yasothon Provincial School). I was also required to take an exam, which I passed.

The Ban Na So School, which I completed my junior high school is famous throughout Kut Chum District. I was the first student in the district to pass the exam to continue to provincial school so my teachers at my former school and my parents were very proud of me.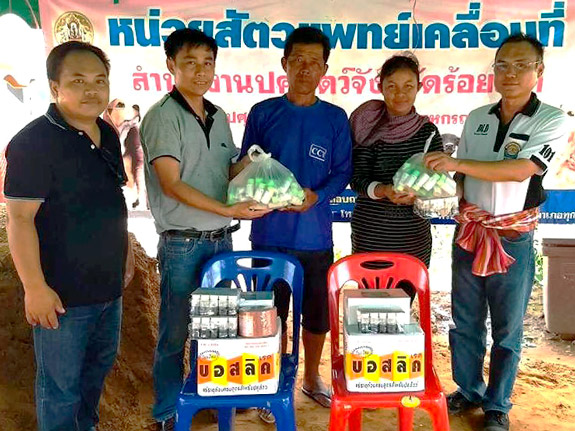 Pattaraphon helps distribute veterinary medicines
to people in the northeastern region.
After graduating from high school, I took the entrance exam to study animal husbandry program in Faculty of Science and Technology at Buriram Rajabhat University. I received a scholarship worth 1,000 baht every month for a year for students who studied well. I graduated with a bachelor's degree in 2004.

I currently work as Veterinary Officer at Yasothon Provincial Livestock Office. I was happy and thankful to have received the scholarship, without which I will not have the job that I do today. If possible, I would like to meet with my sponsor someday. There are so many things to talk and be thankful about. I hope that someday that wish could come true.