I am originally from Chiang Khan District in Loei Province. We are a farmer family with 2 children, including myself. My parents often had to leave for the market early in the morning everyday,therefore, my brothers and I had to learn to look after ourselves since we were young. We had to wake up early to prepare for our own breakfast before riding our bicycles to school which was 3 kilometers away from home.

Moreover, it was also our responsibility to take care of the house chores instead of our parents. My parents did not spend a lot of time with us but we were a loving family. My mother always taught me that "We do not have to always excel in studying but if we work hard and never give up, we can overcome every obstacle." As a result, I had studied hard and struggling for the opportunities and never once caused any trouble for the family.

One day, a teacher nominated me for a scholarship opportunity with EDF. The scholarship I received covered my Grade 7-12 (1992-1997). My parents were proud and happy that all my hard work earned me the scholarship. In addition to my studies, I also help out my parents at the market on the weekends and help teachers at school sell stationeries over lunch time to earn extra money.

After I graduated from high school, I was fortunate enough to continue my studies at a university level, majoring in Mathematics at Srinakharinwirot University (Prasarnmit). I was also the scholarship student for the Acceleration of Mathematics Undergraduate Production and Development Program. Since the increased cost of living in Bangkok, I also worked various part time jobs to earn some extra money; waitressing in restaurants, working in a nursery and tutoring to keep myself from being the burden of the family.

I am most thankful for the scholarship I had received from EDF donor and would like to show my gratitude towards the donor that had continuously provided me with education opportunity. I was advised by the EDF staff to write letters to my donor, I was able to thank them for their support. To my surprise, my donor replied all of my letters; they were truly my inspiration in studying hard to compensate the opportunity.

I am currently a Mathematics teacher at Bodindecha (Sing Singhaseni) School, Bangkok. My parents are happy that I am able to land myself a good job as a teacher that generates a steady income. My parents had high hope for me since I was just a child. Today, I content to say that I have made my parents proud and able to take care of them. They had worked extra hard all their lives for me, our family is now in a better statues than before. As a teacher, I am able to give back to the society, I give opportunities to children by guiding them and providing them with knowledge that they will need in the future.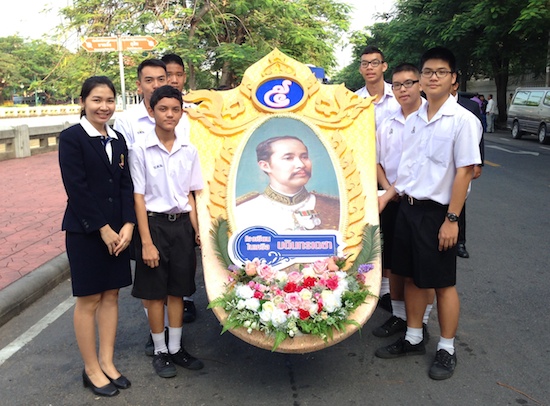 Thitichaya and her students at Bodindecha (Sing Singhaseni) School, Bangkok.

I always remember my mother's teaching, "To never give up and one will overcome every obstacle." Benjamin Disraeli stated that:

"The secret of success in life is to be ready for your opportunity when it comes."

The opportunity I received maybe just a small scholarship but it has created something bigger and sometimes we have to be the one to create the opportunity. We have to search and strive at opportunities instead of waiting for opportunities to find us. When we have that opportunity in our hands, we should try our best to never let it slip through. It might be an opportunity of the life time.

I would like to let the all the EDF donors know that their contribution is the opportunity for underprivileged students that live in the rural area like myself. You might be the guiding light for a child and lead him to a good citizen of a society, help make better of the society we live in and provide the same opportunity for others just as it was given to him/her. As for myself, I will continue to fulfill my role as a teacher and always give opportunities to others at all time.

To the current students in EDF scholarship program, I want you to study hard, work hard and fulfill your responsibility the best you can. You should have faith in yourself and never give up to any obstacles. When you are determined, your achievement is not far out of reach.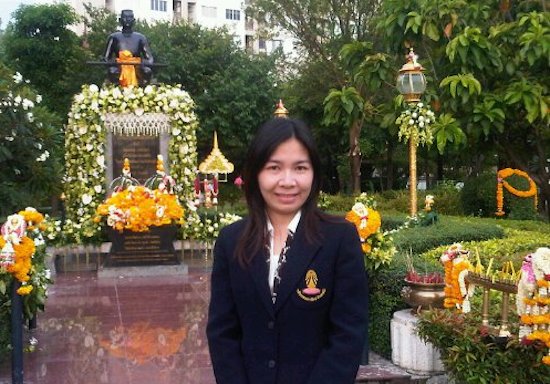 Thitichaya Wongtangnoy
Former EDF Scholarship Students: Grade 7-12 (1992 – 1997)