I live with my grandparents because my parents died when I was a little girl. My grandparents have taken good care of me since then, and I love them very much. They are old but have to go to work every day as farmers. Sometimes they go out to seek for other odd jobs. There is not much income but my aunt also helps out.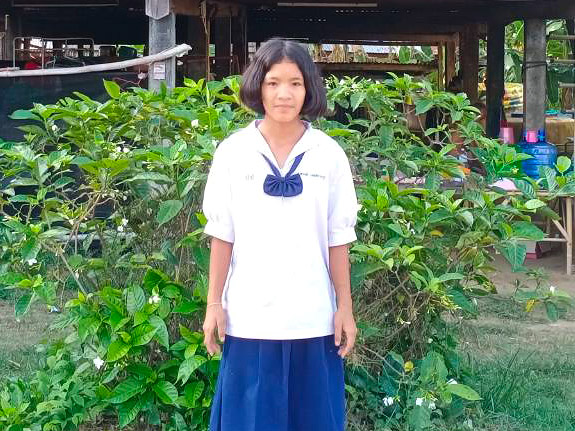 Nong Khao Niew is an orphan. Her parents died when she was young.
Therefore, it has been her grandparents who have raised
and supported her education.
Every day after school, I wash the dishes, clean the house and steam rice. On weekends, I go to help feed my grandfather's cows in the field. During the rice farming and harvesting seasons, I do odd jobs such as plucking rice seedlings or harvesting rice to have extra income to help my grandparents.
At school, I help teachers with about anything needs doing. I like going to school and my favorite subject is the Thai language because it is fun. I can practice reading and writing, which improves my ability to read and write Thai really well. When I grow up, I want to be a teacher because I want to teach students and teaching profession is a secured job. Moreover, the salary is enough to take care of my grandparents. They have taken care of me so I will be very happy to take care them as well.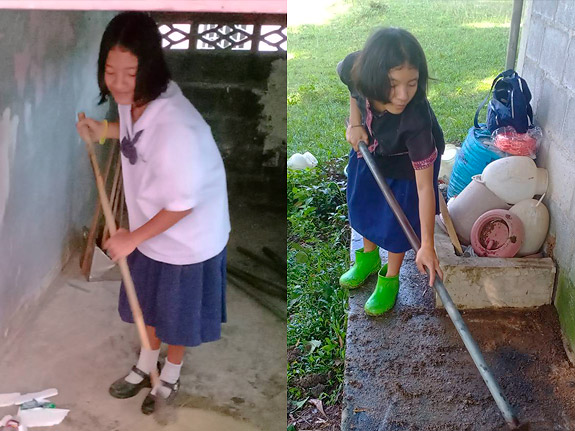 Khao Niew likes to go to school and often helps with various chores
around the school. She has a dream of becoming a Thai language teacher,
so she wanted a scholarship to continue her school
to higher education and pursue her dream as intended.
I applied for scholarship support from EDF Foundation because I wanted grandfather, grandmother and my aunt to not overwork themselves because of me. If I have the opportunity to receive this scholarship I will use it to pay for school supplies and partial of funds will be saved for future education. Please let me have this opportunity. Thank you very much.