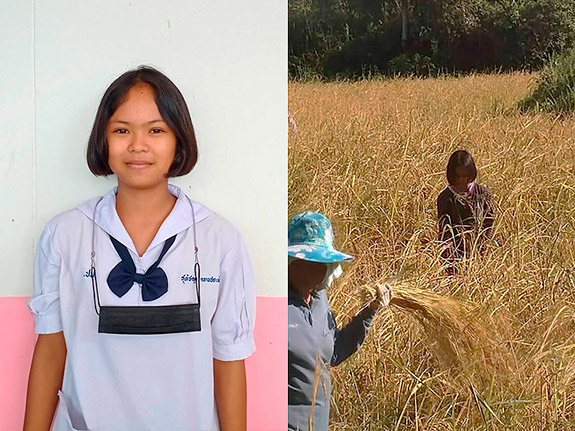 Supatchaya while helping her parents in the fields. The agricultural
product prices have decreased this year. Especially the price of rice
that made family budgets insufficient, so she should apply
for scholarship support from EDF Foundation.
studying and there are lots of expenses to pay off. The family's income is solely dependent on farming, and it's not enough to cover all the expenses.
During holidays, my sister and I do menial jobs such as harvesting rice and growing cassava to earn extra money for the family. However, on school days, I focus on studying. After school, I help do household chores such as sweeping the floor, mopping, washing dishes, doing laundry and others.
I like studying Math because it is fun, while my hobby is reading books. But when I grow up, I want to be a police woman because it is a stable career and good income to take care of the family. My personal motto is
"If you don't try, you will never succeed."
I am applying for EDF scholarship because I want to help my family in paying for my education, and so they can take some rest. They have been working too much to support my schooling. If I could have the opportunity to receive the scholarship I will use it to pay for school supplies and save the remaining funds for future schooling.
I hope that you would find it in your heart to help me. Thank you.