Sawasdee Krab (Saying Hello in Thai for boys), my name is Kitisak studying in Grade 6 in Nakornratchasima province. My parents got divorced. They are bothe menial workers. I am now living with my elderly grandmother at home. Only 2 of us living together. My grandmother is not in good health, therefore, I help her do all chores at home.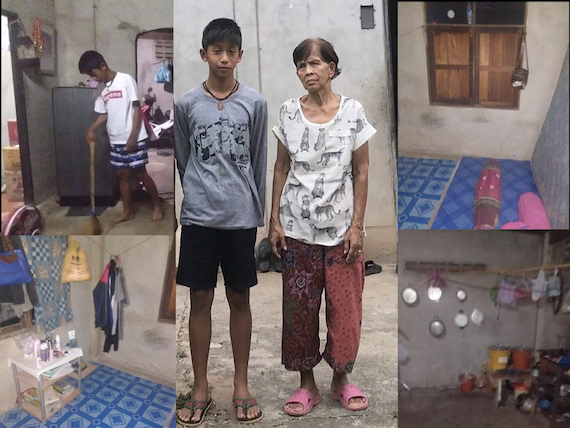 After the parents got divorced, Kitisak was abandoned to live alone with his elderly grandmotherin an old one-storey cement house that is almost empty. He helps her to do all the chores and take a good care of her.

I am living in an unpained cement one-storey house with 2 small bedrooms, 1 restroom and a kitchen. We do not have our own farmland. We need to rent land from the landlord.

For my daily life, I wake up at 5.30am, tidy the bedroom, iron the school uniform, take a bath, eat breakfast before walk to school. When I arrive school, I help my friends clean the school terrain before get into the classroom.

I love to play sports with my friends during lunch break and after school so that we will stay in good health. When I go back home in the evening, I do all chores such as clean the house, cook and fill the water into the bottles. After doing chores, I do the homework as assigned by the teachers, review the lesson. Before going to bed, I help my grandmother put eyedrops into her eyes and then I pray every night.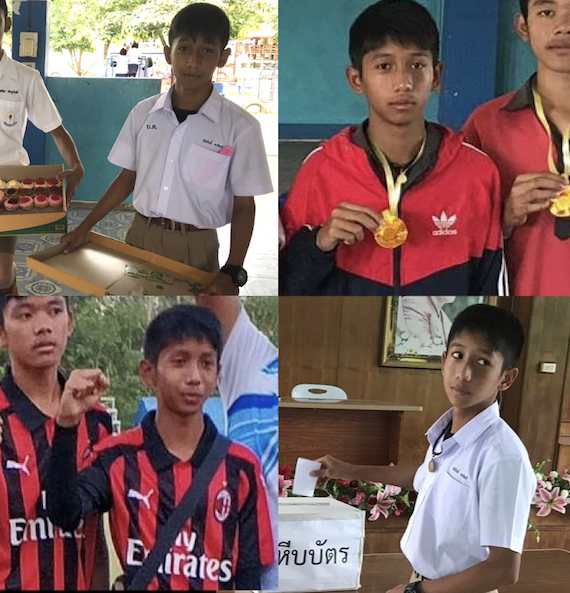 Kitisak loves to play sports with friends at school especially soccer
and like doing extracurricular activities at school

I dream of being a policeman when I grow up so that I can arrest the thieves, work for the nation and help other people. In order to going to the police cadet school, I have to graduate at least lower secondary school. Despite my family is not wealthy, but I will try my best to pursue my dream.

If I could get a scholarship, I will spend solely for my education purpose to help lighten the financial burden of my family on my schooling. I have to say thak you in advance for the sponsor and the foundation in realising the importance of giving education opportunity to less fortunate children. I would like to express my appreciation for your kindness.

Kitisal dreams to be a policeman someday and that is the reason he was applying
for a scholarship to continue his lower secondary school
before going to the police cadet school