Tarn's grandmother has been the only one who raise the 2 children up for over 10 years with a daily wage of 100-200 Baht (3-6 US$) from being a worker in the rice fields. Unfortunately, her grandmother had an accident 2 years ago caused one leg broken and cannot walk without a walker. She has been, since then, unable to work again.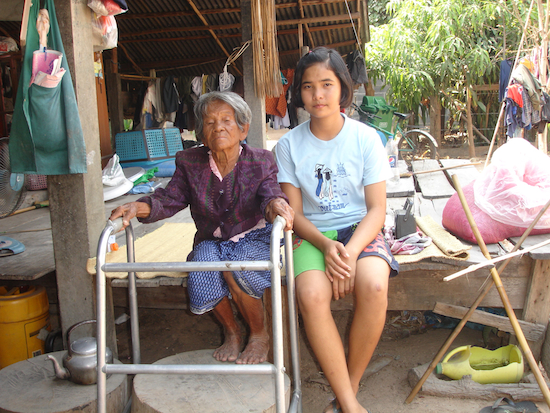 Tarn and her 85-year grandmother infront of the house they are living together

At the present, Tarn and her brother have to do any kinds of odd jobs to earn enough for a living and take care of their grandmother. Tarn wakes up 2 am almost everyday to help her neighbor's makes Thai desserts. She helps with everything from removing the coconut coir, blending the ingredients, steaming until packing and get paid for 30-50 Baht (1-1.5US$). All works normally finishes around 7 am and she has to rush to go to school in the morning.

After school, she goes straight home to take care of her grandmother and do another evening oarting job in the spring onion garden and get another 15-20 Baht (0.5.0.6US$) in return. Her 14-year brother also help earn another 20 baht (0.6US$) a day by driving the water tank truck and pump the water in to the rice fields of villagers.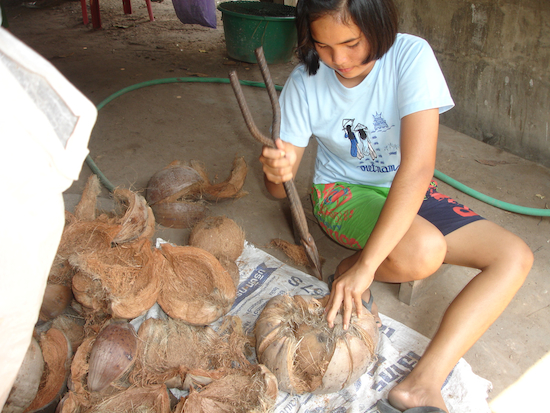 Tarn while removing the coconut coir for preparing Thai dessert's ingredients

However, the jobs are not available everyday. No job means empty stomach for them. Sometimes, the kind neighbors, gives them some food for the grandmother and the 2 children which help them survive another day.

The teacher always help the 2 children with asking the villagers for any used clothes donation for them, especially school uniforms , shoes and learning materials since they could not afford any money to buy themselves.

Tarn's homeroom teacher told us that "Tarn is a kind and polite girl. She tries her best to keep on studying eventhough she sometimes feels sleepy from waking up too early in the morniung to work. She likes to do extracurricular activities and being chosen as a head in planting and taing care of school's vegetable garden. I would be regret if a grateful girl like Tarn does not have a chance to continue studying in lower secondary school. Her grand mother seems to be the only one relative the 2 brother and sister could rely on, but she is too old and weak to take a good care of them"

Tarn expressed her words to us that "My brother and I always try our best for earn enough money for a living and our education. No matter how exhausted we feel, we will never give up. I'm glad that I can do someting for my grandmother. She has been tired and sacrificed in raise me up for long time. I wish I could have a chance to continue my stdy in hogher education so that I can ge a good job and take care of my grandmother to repay the kindness of her"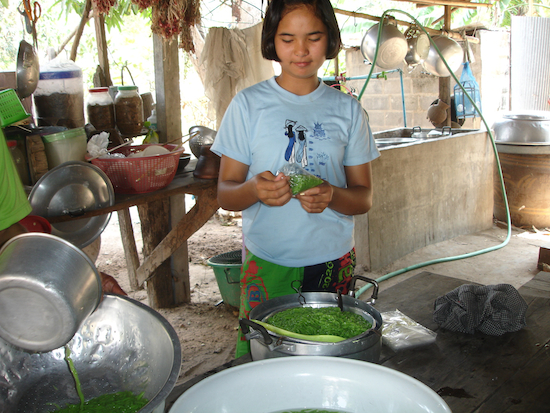 Photo of Tarn while making Thai dessert

We strongly hope that Tarn's story can well represent the prolonged problem of thousands Thai children who have been irresponsibly neglected by their separated parents to live with eldrly relatives in the rural community. Based on our scholarship students database recorded for years, we found that, the number of students who came from broken family background and being abandoned is sharply increasing every year.

For these abandoned children, poverty means more than lacking of money, they also lack of love and warm from their parents and importantly, lack of opportunity and hope for better future. Without education, it is impossible for them to grow up wisely and able to unlock the window of opportunity to sustainably escape from the endless cycle of poverty.